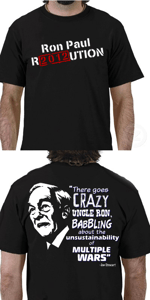 $

10.00
Join the Ron Paul Revolution!
This black shirt features the 2012 Campaign Ron Paul Revolution logo on the front, and the quote from The Daily Show's Jon Stewart on the back, sarcastically mimicking anti-Ron Paul supporters who call Ron Paul crazy.
This shirt will be printed for a LIMITED TIME.